Greeting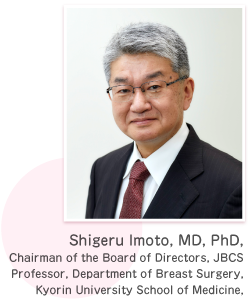 Welcome to the official website of the Japanese Breast Cancer Society (JBCS)! Recently, it has been renewed and I would like to introduce our society to readers.
JBCS was founded in 1993. About 60 years has passed since Breast Cancer Seminar originally started in 1964. We have 9500 members and the two-thirds are breast surgeons. At the inauguration of chairman in 2018, I declared that my mission is to offer reliable breast cancer diagnosis and treatment to citizens, and also that my vision is to facilitate scientific activity in JBCS towards next 10 years. During the past 3 years, our society was faced with several issues. First, a Japanese case of BIA-ALCL decreased in number of breast reconstruction. Second, BRCA genetic test and PARP inhibitor was approved under health insurance. Third, risk-reducing mastectomy and breast reconstruction was also introduced with insurance for BRCA-mutated breast and ovarian cancer patients.
It is critical for breast cancer patients to perform accurate diagnosis and chose optimized treatment of breast surgery, drug therapy and radiation therapy. Especially, in advanced cases, shared-decision making in advance care planning is important for patients and their families. Thus, our society periodically publishes treatment guidelines for physicians and patients, separately. The National Clinical Database (NCD) records almost all cases that receive surgical treatment in Japan. JBCS is a member of NCD. Using huge numbers of cases, cohort studies are in progress to explore biological features in Japanese breast cancer. To improve breast cancer treatment, JBCS organizes group study and new findings are released in the official journal "Breast Cancer". Recently, we are promoting international relationship with some world organizations. GBCC/KBCS is a representative of breast cancer society in Asia. GBCC/KBCS and JBCS concluded MOU. We discuss about current issues on breast cancer and exchange opinions at joint session of annual meeting. In the near future, young investigators will mutually visit Korean and Japan institutes. As JBCS joined SIS last year, our society is expected to contribute as active member.
Now we have to make a living with COVID-19. Infection control is the highest issue for everyone. Under severe conditions in Japan, the 29th annual meeting will be held in July. It will be arranged as a hybrid of in-person and virtual meeting. Fortunately, we will celebrate the 30th anniversary of the foundation of JBCS in 2022 and produce a memorial ceremony and a memorial magazine next year.
Finally, we would like to collaborate with physicians and investigators to conquer breast cancer. If you have some interest, please contact JBCS office by e-mail.
Best regards,
April 2021