Greeting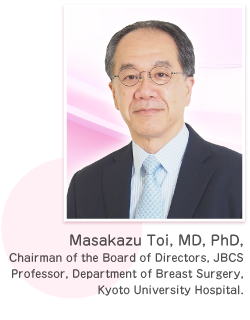 Welcome to the website of the Japanese Breast Cancer Society (JBCS)!
The JBCS was established in 1993 after 60 years of activities as the Japanese Mammary Cancer Society. The number of members has increased gradually over the past 90 years, and the society currently has about 9,000 members and is expanding its activities. We celebrated the 30th anniversary of the foundation of the JBCS in 2022. Much has been achieved under the leadership of many outstanding successive Chairs and Boards. To build on these achievements, I hope to promote further development of the JBCS.
I started my career as a breast cancer researcher in Hiroshima, and I have since worked in Kyushu, Tokyo and Kyoto, and in England. I have been engaged in breast cancer research, treatment and diagnosis, and education for about 35 years.
In Japan, the incidence of breast cancer continues to increase rapidly. The causes of this increase are unknown, but there is no doubt that breast cancer depends on female hormones in carcinogenesis and growth, and that genetic background is closely related to its development. However, the details of breast cancer initiation and progression in humans are still not fully understood. It is very important to evaluate the early features and clarify the mechanisms based on the latest knowledge and technologies.
Analysis of the host response to breast cancer, especially the immune response, is also important and is currently being widely investigated. Substantial progress has been made in research on fundamental questions such as the mechanisms of invasion and metastasis, why treatments are effective, their impact on diagnosis, and their contribution to survival.
There have also been major advances in the treatment outcomes of breast cancer. Extensive screening and modern diagnostic methods have permitted detection of small cancers and revealed their expansion and metastatic status in detail. Many new pharmacotherapies have been developed over the years, while surgery, radiotherapy and oncoplastic surgery have contribute to improved survival and cosmetic outcomes. Nonetheless, the number of deaths from breast cancer still remains high, and there are many breast cancers that are difficult to detect at an early stage and are resistant to treatment.
The JBCS supports basic research to increase the rate of early detection, develop breakthrough diagnostics and therapeutics, reduce relapses, reduce mortality, and improve cosmetic appearance and quality of life. There is a need to promote various initiatives strategically, efficiently and quickly.
It is particularly crucial to collect data from clinical sites, perform analysis of big data using the latest methods, and quickly provide feedback to the clinical sites. The JBCS is a member of the National Clinical Database (NCD) and we have registered almost all primary breast cancer cases treated in Japan. Using this large number of cases, cohort studies have been conducted or are in progress to examine clinical and biological features of breast cancer in Japanese females and males.
We recognize the importance of introduction and nationwide penetration of new treatment methods, the reduction of toxicity associated with drug therapy, and the need for appropriate mental healthcare before, during and after treatment. Our society has published practice guidelines for physicians and patients, and we promote shared decision making and advance care planning for patients and their families to realize better medical care. We want to build and maintain a consistent system from prevention and diagnosis to treatment, care and follow-up, and develop a system that supports survivorship.
Advances in genetics and mathematics have enabled risk assessment for development of breast cancer, as well as preventive risk reduction in high-risk patients. The Ministry of Health, Labour and Welfare of Japan have approved support for genetic diagnosis and risk-reducing surgeries by the national health service. Molecular biology is fully involved in characterizing tumor markers and disease status for predicting therapeutic response and survival. The JBCS has promoted infrastructure development in precision medicine to evaluate diseases more accurately and achieve better prognostic outcomes.
To this end, it is essential to foster and train as many healthcare professionals as possible with high levels of expertise in a wide range of fields. It is also necessary to revitalize the network for medical cooperation and further improve the quality of breast cancer treatment and individual patient care throughout Japan.
Many new methods have been developed for diagnosis and treatment of breast cancer in Japan, and there are many excellent clinical results. "Breast Cancer", the official journal of the JBCS, provides a forum for exchange of ideas and global contributions, which is extremely important. In addition, we are very interested in working with overseas academic societies and organizations.
The mission of the JBCS is to support breakthrough research, promote advanced medical care, and cultivate human resources responsible for this work. It is critical to create an environment in which medical professionals involved in the treatment and care of patients with breast cancer can work comfortably, play an active role, freely exchange opinions, and discuss ideas.
Thank you very much for your generous support and help. We are always very happy to collaborate.